Regular price
$100.00 USD
Regular price
$100.00 USD
Sale price
$100.00 USD
Unit price
per
Sale
Sold out
OPERATION ALPHA was personally developed through experience alone by Spencer Lewis.
This program was created for the Selection process but it was also created for those like minded but are not necessarily in the military. If you are looking to take on a challenge then I challenge you to crush this 6 week strength and conditioning program.
This program involves compound movements like back squat, bench press and dead lift along with other weight training, sprinting, long distance workouts and everyones favorite rucking (heavy back pack) distances, time intervals and weight is all incorporated into the program.
This is a downloadable link upon purchase, just for you. You will not be able to share the link. I want this to be personal. This is a big challenge and I want to be there for you every step of the way so if you want to try the program, feel free to hit me up on any questions you may have. Like I said before, you do not have to be in the military to destroy this program.
Those who wish to gain the necessary physical strength and mental endurance to succeed and to train for the Special Forces Assessment Selection Program, Ranger Assessment and Selection Process or Ranger school then you will be executing the exact train up that I did.
Whenever, wherever. ​You will be ready
-AC
Share
View full details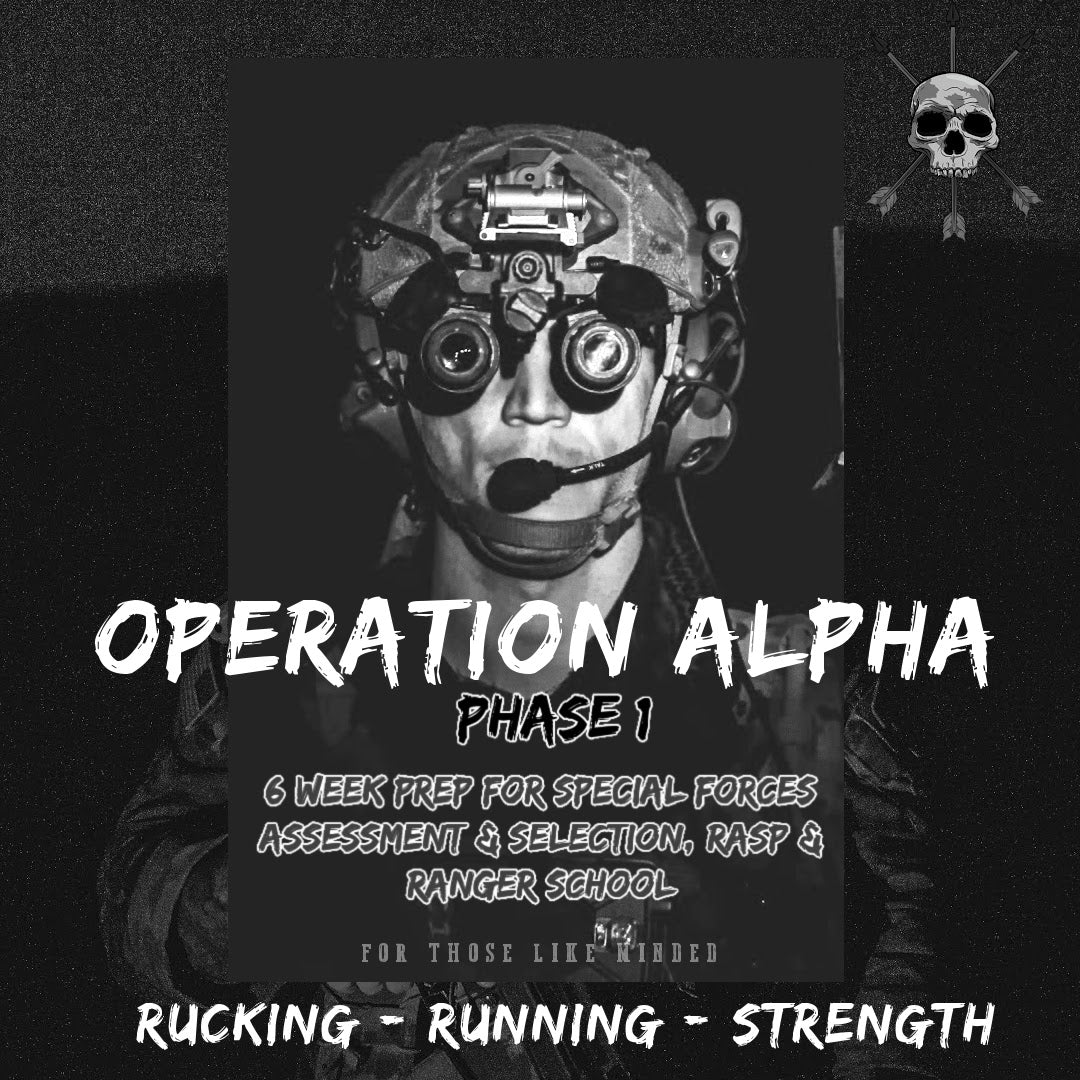 Program Reviews
Jeffrey L.

"Finally training that prioritizes being athletic. I don't know how many programs I've had to invest in where the majority of the training is an unrealistic amount of calisthenics, ridiculously long WODs and no immediate concern for the dude who has to do their job with weight/plate carriers. Just two weeks in I'm already visually leaner, I'm able to do weighted pull-ups, dips and pushups confidently and my posterior chain especially my upper back and traps are on the road to being Spencer's level. Last thing I'd like to say is when I had questions, all responses were replied to that same day no issues. I can't wait to move onto Phase II."

Trevor S.

"Tier 1 experience. Operation Alpha is a great program. I also ordered a supplement off their site and got a notification 10-15 minutes later that it shipped. If that doesn't say enough about it a company, idk what does."

Quinn M.

"I wanted to leave a review on this program after attending SFAS. This program kicked my ass, but left me in the best shape of my life. I can attribute my physical success at SFAS to God and this program. After the second workout day, I realized this was exactly what I needed as it hits the work your body needs to hit the ground running in every phase at SFAS. I took a gamble on it, not knowing what it entailed at first. One of the best gambles of my life. You have a six day a week work week and expect two a days for at least one of those days. I recommend hitting a strictly strength regime before this program for best results. Reach out to Aplha Country with any questions on this program. They'll respond quickly and are very friendly/helpful. They care about your success with their product."